Gisele: Saving the World One Flip-Flop At a Time!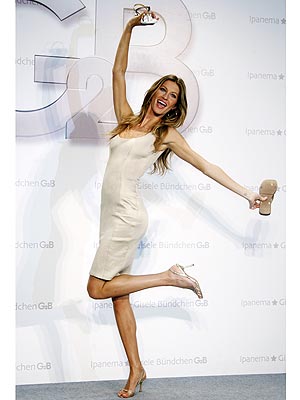 Schroewig/Splash News
Supermodel Gisele Bundchen headed to Berlin to show off the new collection of her successful Ipanema G2B flip flops. Though her sandal line is already socially conscious — 99% of any surplus material in the production process is recycled and all materials are 100% vegan-friendly — this new collection will also help support water projects in the rain forests of Brazil, the supermodel's native country. The Ipanema G2B collection consist of 36 different designs for women and girls, which for a shoe-lover like Gisele was critical. She tells the German national newspaper Die Welt, "I've never counted [my shoes]. Probably around 100." Defending women's love of footwear, she says, "It's comparable to the way men love cars and watches. But [shoes] are much cheaper, so we can have more of them." We couldn't agree more! Add to your own collection by checking out all her sandal styles at ipanemaflipflops.co.uk.