Paris Hilton Rocks Benji Madden's Clothing Line!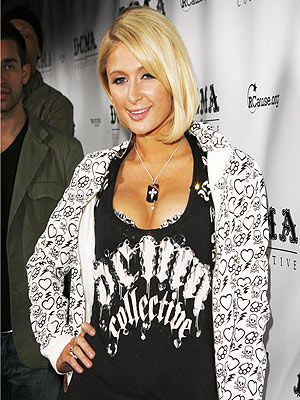 Jeff Vespa/WireImage
Joel and Benji Madden celebrated the opening of their first DCMA Collective store, which Joel described as "another baby" to PEOPLE, with their ladies by their side — Nicole Richie and Paris Hilton respectively. And while Nicole chose to wear a clingy vintage gown, Paris chose to support the boys' endeavor. The star, who's been wearing the line since she started dating Benji last month, customized her outfit for the night. "I made this! I took a shirt and cut it off and I glued all these crystals on right before I came here. It took like an hour. And the bra and jeans are from my lines," she told PEOPLE between bites of a fish taco she picked up from the Taco Nazo cart that catered the party. Adds Benji: "She's very supportive. I try to rep, too, so I have a Paris Hilton watch on," he admits, later praising Hilton for her T-shirt creativity: "She did that herself! I picked some of the extra glue off, but that was it." And don't forget their matching initial rings! Tell us: Do you like Paris's customized T-shirt?