George Clooney's Girlfriend Hits the Runway -- in a Swimsuit!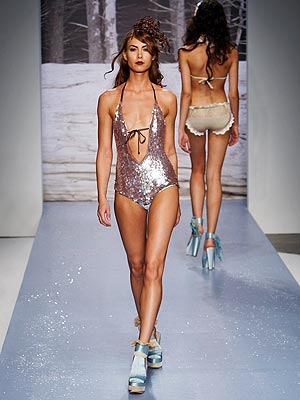 Frazer Harrison/Getty
Sarah Larson has already made headlines for appearing on George Clooney's arm everywhere from premieres to the Oscars red carpet — and now she's making waves modeling revealing swimsuits on the Ashley Paige runway at L.A. Fashion Week. The former Fear Factor winner strutted her stuff in two sexy one-piece suits like a pro. A rep for Ashley Paige tells PEOPLE, "She was our special guest model, and yes she was booked as a model two days before the show. Of course we knew it would be press-worthy, but more importantly she's a fan of the label and she was a perfect fit for the show. She was a total delight to work with and she was professional. Just like any other model." Sadly, Clooney was not present at the show to cheer on his girl, but we're sure he would echo his Oscar night sentiments. "She looks good, huh?" he told PEOPLE.