J. Lo's Maternity-Wear Philosophy: Glam Gowns, No Sweats!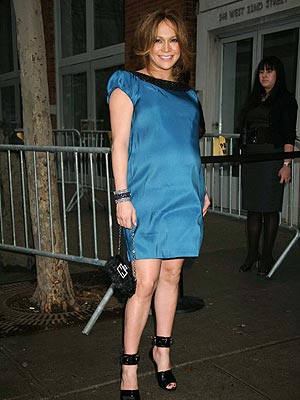 Anthony Dixon/WENN
With all the stars making the rounds for N.Y.C. Fashion Week, the fashion flock is getting even more jaded than usual. But despite the dazzling gowns at Marchesa, all eyes were definitely on nine-months-pregnant (with twins!) Jennifer Lopez, looking as gorgeous as any of the models in her own silky teal Marchesa dress that highlighted off her growing belly. Sure, she looks fantastic, but how's pregnancy really treating her? "I'm feeling good," the almost-due singer tells PEOPLE of her decision to check out the new collection along with husband Marc Anthony. "I haven't gone out a lot for the past few months", she admits, "but Marchesa has been incredibly good to me. They are just amazing!" And while most moms-to-be stick to comfort wear, the always-glam Jennifer says sweats are not an option. "People make fun of me because when I do have them over to my house I do have a dress on," she laughs. "I don't like the way the sweats look with the extra weight. I like to feel good about myself even at home." And while the singer won't be able to wear any of Marchesa's red carpet confections anytime soon, she does have her eye on a few special looks. But, Lopez admits "Right now the best thing I can do for myself, for my body is to keep resting which is not easy for me. I like keeping busy and it is very hard because if they say 'be off your feet for four hours a day', I'm like 'oh, God!' It's hard." If she looks this good at nine months, we can't wait to see her back in action!
Take a look back at J. Lo's maternity style by clicking here!
Reporting by Jeffrey Slonim