Rihanna Turns Designer for a Cause!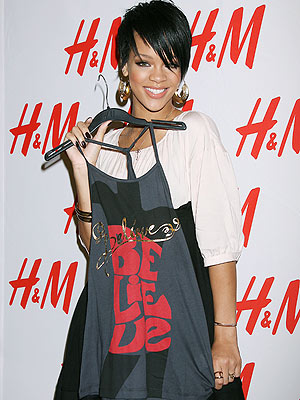 Dave Allocca/Startraks
Rihanna has quickly become a major trendsetter, and now she's using her icon status for good! The singer turned up to H&M yesterday to help launch the H&M Fashion Against AIDs collection, including a T-shirt she designed. The singer tells PEOPLE that she got involved because "I felt like young people need someone who they can look up to and relate to, and I felt that if I'm going to have such an impact on people I need to make it positive." And as for her choice of slogan on the T-shirt? The singer explains, "Believe is the name of my charity. Believe and Youth Aids, they both cater to young people and educate them and empower them, so I thought I'd put that name on my shirt." As for her style, she tells us that she definitely loves her collection of necklaces best — "I will give my shoes to my friends, but I always keep my jewelry" — and looks to Sienna Miller as a fashion inspiration — "I think her style is very street, very New York and kind of 80s. I love it. Everything she wears looks good to me." Well, we'd say the same thing about Rihanna! For more information on the campaign and how to purchase Rihanna's t-shirts or others designed by Timbaland, Good Charlotte and more, click here.