Miley Cyrus Sounds off on Her Style, Shoes and Splurges!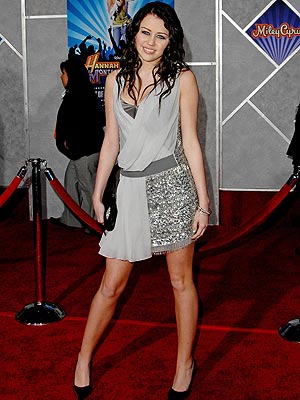 Jon Kopaloff/FilmMagic
As if selling out tours and releasing a 3-D movie isn't enought, Miley Cyrus has to also been quickly attaining style icon status — and not just for her legions of screaming fans. The star turned up to the premiere of Hannah Montana & Miley Cyrus: Best of Both Worlds in a totally chic Alberta Ferretti dress and described her style to PEOPLE as "rock, glamour, Hollywood. I think that's kind of what I like." While she admits to loving J Brand jeans, her big obsession is Christian Louboutin shoes. "For the AMAs, I had Christian Louboutin shoes, which I love. I love their sparkles." But they don't exactly pass muster with mom and dad. "I could never put my credit card down and be like, 'Alright I'm going to buy a pair of Christian Louboutin shoes', like no way." But luckily, she's been able to pick up a few luxe items while on the road like her Prada purse, purchased in London. Miley told PEOPLE, "It was in London and I was like, 'I don't think I'll get it,' and then five minutes later I was like, 'Oh, who am I kidding? I'm just buying it!' " But maybe Miley's too good a friend to keep splurging — she doesn't even have her Prada bag anymore because "I let like so many people borrow it that I have no idea where it is!" We bet there's more where that came from for this emerging fashionista!