Stars Turn Out to Celebrate Jimmy Choo!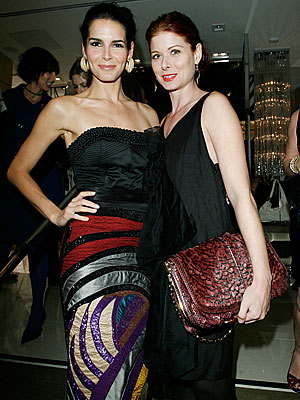 Donato Sardella/WireImage
What's the telltale sign of a good party? "It's always a big success when the fire marshal comes! I'm very excited about it," co-host Angie Harmon tells PEOPLE at the opening of the Jimmy Choo Flagship store on Rodeo Drive, benefiting the Entertainment Industry Foundation's Women's Cancer Research Fund. Latecomers, including The Hills Audrina Patridge, were forced to line up outside, while early birds, including Debra Messing, Lisa Kudrow and Lauren Conrad, checked out the shoe and handbag collections inside the spacious 1940s boudoir-style digs (the largest Jimmy Choo store to date). Gabrielle Union took one look at the Catherine Malandrino-clad Harmon and announced, "You're giving us all low self-esteem!" before the two admitted they were obsessed with each other. But the true obsession: those infamous sky-high heels. "I told Tamara [Mellon, President and Founder of Jimmy Choo], 'I know you think that you're getting these [shoes] back, but you're not. I'm actually going to fight you in these shoes! We're going to sell tickets!" And the shoes are glamorous enough to make every a pregnant woman get into stillettos. Elisabeth Rohm tells PEOPLE, "I'm almost six and a half months pregnant, and I'm wearing Jimmy Choos, so clearly I'm an addict to Jimmy Choo!" Amazingly, a Philip Lim-clad Debra Messing was able to actually focus on the store itself. "Oh, it's spectacular. It's glamorous and spacious and everything a Jimmy Choo boutique should be." If you can't make it to the store, check out the Spring collection online.