Christina Aguilera's Picks For Her New Baby Boy!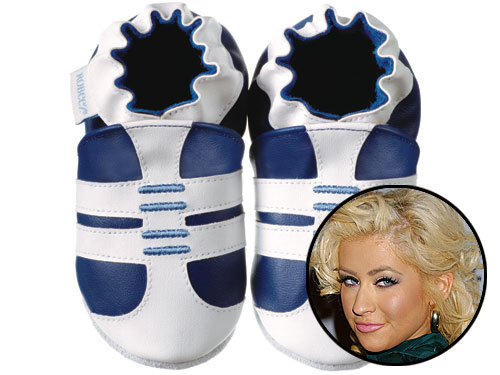 Courtesy Robeez.com, inset: Vince Flores/Celebrity Photo
It seems Christina Aguilera is already passing on her love of great shoes to her new baby boy Max Liron. The singer and her husband may have kept quiet on the sex of the baby but certainly kept themselves busying buying blue goodies. Prior to the birth, Christina had ordered two pairs of Robeez sneaker booties — the Athletic brown and teal booties and the the Trainer in Royal (both $28) — for her recent baby shower. That's not all, the new parents also picked out this luxury organic blanket in ocean blue, $55, from robbieadrian.com and this "new" boy onesie, $24, from huddybuddy.com. Now we can't wait to see the little guy modeling his new kicks!