Great Gift Ideas For Pets!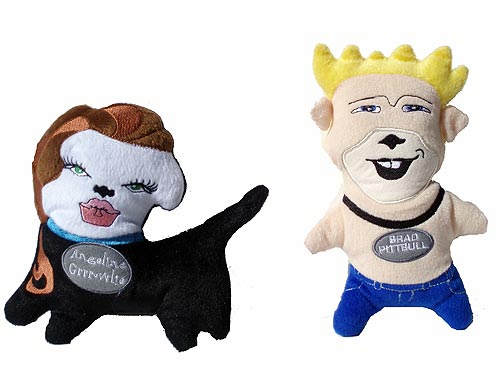 Credit: Wagwagwag.com
This holiday, don't forget to the most cuddly member of the family. Check out our top picks for your favorite furry buddies.
Puparazzi Pets: These plush stuffed chewable characters wagwagwag.com are perfect for the celebrity obsessed. Choose from such stars as Brad Pitt-bull, Angelina Growlie, Pomeranian Anderson, Bite Me Spears, Bark Nicholson, Doggy Depp and more.
Juicy Couture for Dogs:Spoil your pooch with some of Juicy Couture's glam gifts. We love the metallic leash and collar sets, Buy Me Stuff glitter tee and the Princess Dog House. Check out the whole collection for your K9 at juicycouture.com
Tixie + Peanut Pet Shop: Treat your pooch to a fun and witty holiday treat from Trixieandpeanut.com. From Santa costumes and candy cane sweaters to chewable Manolo Barknik and Bark Jacobs heels there is something for dogs of all sizes.
Target's Toys for Pets: Need something last minute? Target.com has something for every pet in the house. We love the Cat Fun Box that includes everything from a litter scooper to a cat play tunnel, the Runaway Rascal Electronic mouse and the Postal Plaything for dogs.