Gifts for Everyone: Pajamas, Robes & Slippers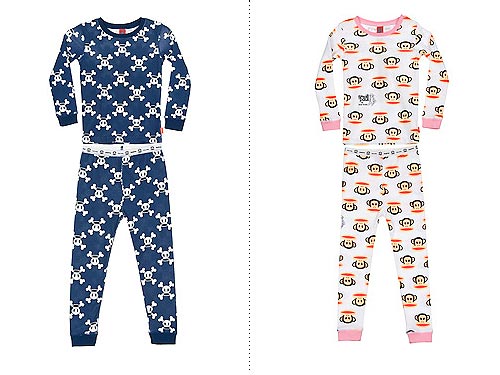 courtesy Planetfunk.com
No matter who you are buying for, sleepwear can always come in handy. From funky slippers to vibrant pajamas, be sure to check out these cozy options.
Small Paul sets: Small Paul's silly little monkey print is perfect for any kid on your gift list. PlanetFunk.com has a variety of fun ways to suit your kid up with some funny monkey print. We love the boy's and girl's two piece pajama sets, $45 each.
Victoria's Secret: The expert in lingerie is the perfect stop for brightly colored cozy pajama sets, slippers and robes. Our favorites include striped thermal set, this long cozy robe and these sexy satin pajamas.
Sleepyheads PJ's: Sleepyheads.com has pajamas for the whole family. Chose from different patterns for everyone in the house with Family 'Jammies. Get Kit n' Kaboodle furry slippers to keep feet warm or chose from a variety of funky patterened boxers for your guy.
Gap Body: Check out the festive red and white holiday collection from gapbody.com. From cozy shearling slide slippers to printed flannel pants, the Gap has everything you need to get comfy on Christmas morning.