Should Johnny Depp Get New Boots?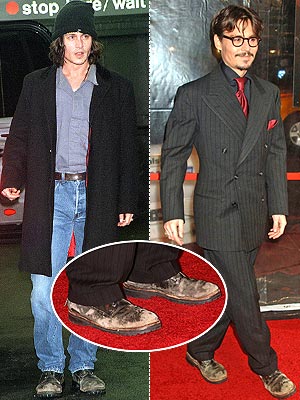 Arnaldo Magnani/Getty; Jim Spellman/WireImage(2)
Lots of stars wear the same shoes, bags, sunglasses and even sweaters over and over again, but we think Johnny Depp's scruffy brown boots have just about had it. When we spotted him in this spiffy zoot suit at the New York premiere of Sweeney Todd the other night, we loved his look — until we got to his footwear. In fact, Johnny has been sporting these same beat-up boots since 1999 (as seen in photo on the left)! We think it's about time he invest in a new pair — perhaps these Timberland workboots, $300, at barneys.com would suit him? Tell us: Should Johnny Depp get new boots? What do you think when you see a guy wearing scruffy shoes?