Would You Wear Beyonce's Rainbow Heels?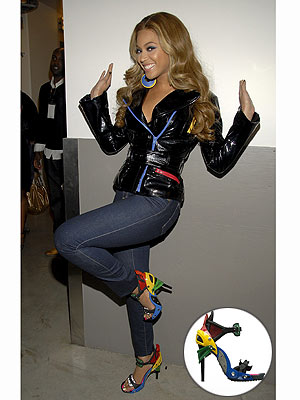 Frank Micelotta/AMA/Getty
At Sunday night's American Music Awards, Beyonce joined country music stars Sugarland onstage for a remix to her song "Irreplaceable" wearing some pretty unbelievable shoes. The 'Closed Front Cage Sandals' by Balenciaga go for $4,175 and feature a sneaker-like construction of red, yellow, green, and blue colors (and are available in all black). She's not the first star to notice them, either. Last month, Kanye West even blogged about the shoes — giving them "The Illest Shoe Award". They may be attention-getting, but we can't help but be suprised that Beyonce would break with her normally classic style and pair these cutting edge heels with her J Brand jeans and patent jacket designed by mom Tina Knowles. Tell us: What do you think of Beyonce's shoes? Would you wear these?
Click here to see the best of the night's fashion.