Which Olsen Wears Her White Dress Better?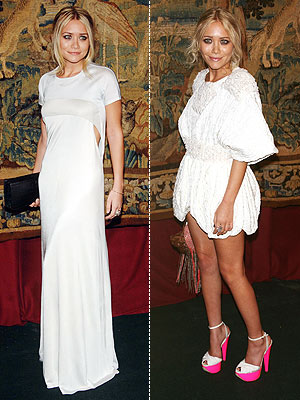 Barket/Getty; Jim Spellman/WireImage
The Olsen twins arrived looking more alike than ever to Thursday night's 7th on Sale gala — matching golden blond updos, smoky eyes and sexy white dresses. Ashley arrived on the arm of Calvin Klein designer Francisco Costa, who called her "super-sexy", clad in one of his cut-out floor-length t-shirt dresses, while Mary-Kate hung out with Giambattista Valli, who supplied her minidress and towering platforms (we've seen those on Mariah Carey and Jessica Biel before too). We think that both young women are looking better than ever — but so similar that it's hard not to compare! Tell us: Which Olsen wears her white dress better? Ashley in Calvin Klein or Mary-Kate in Giambattista Valli?