Get Lauren And Hayden's Must-Have D&G Bags!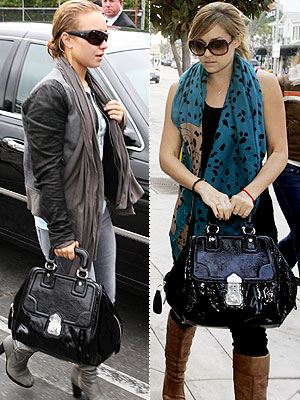 Sunset Photo and News; London Ent / Splash News online
Over last weekend, Lauren Conrad and Hayden Panettiere stepped out showing off shiny new bags, and it seems the two California girls have a lot more in common than just boys — both have dated Laguna Beach alum Stephen Colletti. They love the same black D&G purse! The Hills star brought her patent satchel shopping with her friends in West Hollywood, while the Heroes cheerleader lugged her matte bag to a studio in Culver City. We love how chic the bag looks with their casual outfits, but the price tag is way too hefty for us. Check out how to get Lauren and Hayden's actual D&G lock satchel and some similar looks for less.
Get Lauren and Hayden's Bag!
For Real:
D&G large patent satchel with lock, $1110, neimanmarcus.com
D&G Allyson matte bowling bag, $990, neimanmarcus.com
For a Steal:
Elliot Luca patent satchel, $338, nordstrom.com
Hype black pebble leather Costa del Sol satchel, $160, target="_blank">bluefly.com
Tango large tote, $110, guess.com
Quilted Patent Lock Shopper, $59 at anntaylorloft.com