Get a Patterned Coat Like Jessica's!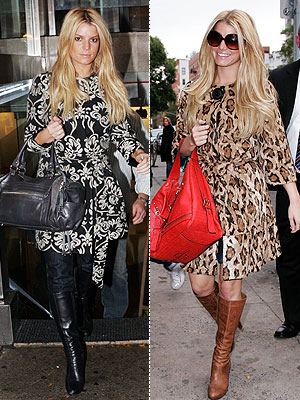 LDP IMAGES; James Devaney/WireImage
Jessica Simpson is keeping a hectic travel schedule these days — from New York to Nashville to Toronto — and she's keeping bundled up in style! Forget a basic black peacoat, the singer is spicing up her casual outfits with patterned coats. We love that a great leopard print or jacquard is all you need to toss on over jeans — and you're instantly chic! We tracked down coats like Jessica's for you, all for under $200.
Get a Leopard Print Coat!
Style&co. Belted Leopard-Print Coat, $69 at macys.com
INC Belted Leopard-Print Trench Coat, $97 at macys.com
Impermeable by Weatherproof Three Quarter Length Faux Leopard Coat, $178 at nordstrom.com
Via Spiga Leopard Print Raincoat, $200 at bloomingdales.com
Get a Jacquard Coat!
Fitted Jacquard Jacket, $49 at newportnews.com
Portrait-collar Jacquard Coat, $79 at newportnews.com
Circle Pattern Wool Coat, $105 at ardenb.com
Newsroom Coat, $168 at freepeople.com