Ali, Rashida and Christina Celebrate DKNY!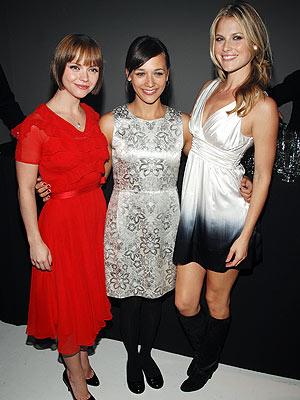 Paul Hawthorne/Starpix
Fashionistas turned out in force to support Donna Karan Wednesday night at the launch of her third perfume: DKNY Delicious Night. "DKNY is young and spirited and meant for a night out," Ali Larter told PEOPLE on her way in to the party, where guests sipped blackberry cocktails and snacked on mini hamburgers during rapper Common's 45 minute set. As for her dip-dyed DKNY dress, she declared "This is for a night out in New York and I'm excited to be here." Rashida Jones declared she was wearing "DKNY — all of it except the undies!", while Christina Ricci showed off a svelte physique and a lighter 'do. "It was cut short for Speed Racer," she told PEOPLE of her coif, "but I lightened it for me." And there was no goody bag, but guests snapped up sequin cuffs on their way into the party for a touch of discrete bling. "Sequins are fantastic because you can wear them with jeans or anything you want," Karan explained of her affection for sparkle. "They're like the city lights — and they give you the spotlight you want!" Want to try DKNY Delicous Night? Nab a bottle of Eau de Parfum, $52 at bloomingdales.com.