Carrie Underwood's $7 Million of CMAs Jewels!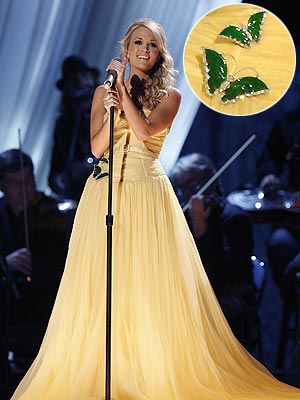 Lucas Jackson/Reuters/Landov; Rick Diamond/WireImage
Carrie Underwood always dazzles on stage, but the former American Idol took things to a whole new level at Wednesday night's Country Music Awards. The two-time award winner performed her new single, "So Small", wearing a stunning yellow chiffon Escada dress ornamented at the hip with twin Johnathon Arndt imperial jadeite and diamond butterfly pins worth over six million dollars! And her bling binge didn't end there. She walked the red carpet dripping in jewels that included a watch valued at nearly $300,000, 5.78 ct. princess cut diamond earrings valued at $52,000, and a rose cut diamond ring set valued at $68,000. In total, the gorgeous star showed off more than $7 million worth jewels by the end of the evening. Nothing so small about that!