Fashion Faceoff: Mandy vs. Halle!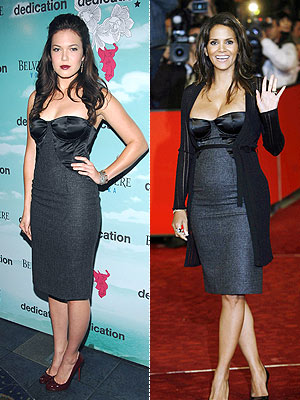 DIMITRIOS KAMBOURIS/WIREIMAGE;ALESSIA PARADISI/ABACA
We can't say enough how amazing Halle Berry looks pregnant — although we imagine we've got a few more oohs and ahs before she's due. So, it's no surprise that the hot momma-to-be is still wearing non-maternity wear, but only Halle could pull off a legendary Dolce & Gabbana corset dress in her second trimester! But we've seen this particular slinky number before, on the decidedly sveltve figure of Mandy Moore. While it's not exactly fair to compare those who are and are not expecting a child, we still get a giggle out of seeing the two stars in the same dress. Tell us: Who wears her Dolce & Gabbana dress better? Do you like that Halle is wearing sexy clothes during her pregnancy?