Stars Celebrate Sole Man Christian Louboutin!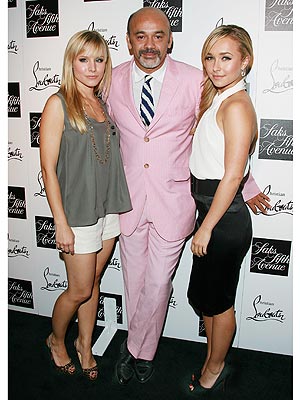 Jordan Strauss/WireImage
What man is lucky enough to elicit declarations of love from Ashley Olsen, Rachel Bilson, Hayden Panettiere, Molly Sims and Kristen Bell — all on the same night? Shoemaker extraordinaire Christian Louboutin, of course! Young Hollywood's A-list turned out to fete the french designer at an exclusive cocktail party in Hollywood last night. Hayden (in a Trina Trunk halter top) gushed to PEOPLE of her platform pumps, "these were my birthday gift, and I've had one pair like every week since. I'm addicted, but I've only bought two. I don't know how I've managed to acquire [them]. It's like they're popping out of the woodwork!" While Hayden and Heroes costar Kristen Bell whispered in a corner, Molly Sims revealed she's been a fan of Louboutin for over a decade. "They're comfortable, they're stylish — he just hits it whether it be with the ribbon or the cork or the platform. I mean, have you seen the new sexy shoe boot with the zipper up the front? He's incredible!" Echoing the ultra-luxe shoes wearability and comfort was Friday Night Lights' Minka Kelly, who claimed "the first day that you wear them it feels like you've worn them for 4 years. You can wear them all day long, and they're really the most comfortable shoe I've ever worn." As for the man of the hour, Louboutin told PEOPLE that his success "comes from a very simple thing is that when you"re designing things, people can see the pleasure in doing what you do, and my biggest pleasure is actually my work and is designing shoes." Lucky for us!
Check out a selection of Christian Louboutin's shoes at saks.com.