Halle Berry and Gabriel Aubry Go Baby Shopping!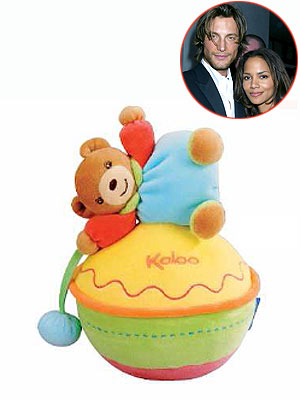 Courtesy petittresor.com; Pace/BEImages
Christina Aguilera is not the only famous mom-to-be getting into baby mode. Just last week Halle Berry and Gabriel Aubry stopped by another celeb-favorite baby boutique to get their baby registry in order. The actress, who is loving being pregnant, and her model boyfriend spent over an hour shopping at Petit Tresor. The couple picked out gender-neutral items including a fairy tale theme for the nursery that would consist of custom painted murals and custom matching furniture and bedding. Among other things they picked up for their future girl or boy were this Kaloo Activity Book, a Chime Bell Ball, a cashmere Alvin & Sparky puppy and this Lily Binkie blanket. Halle also picked up two diaper bags for herself, this bigger black and white Mia Bossi one and a smaller white leather one by Fleurville. All we know is that this is going to be one beautiful and stylish baby!