Posh Blogs from Paris: Shows, Shoots and Shoes!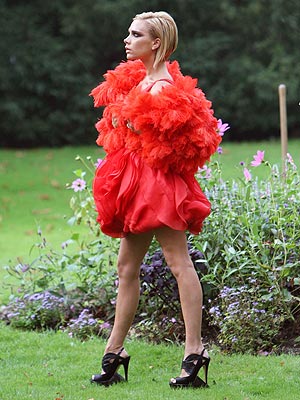 KCSPresse/Splash News Online
We've been keeping an eye on Victoria Beckham as she makes the fashionable rounds of Paris, and she hit her computer today to blog all about it on her website dvbstyle.com. From the "incredible" Roberto Cavalli store opening to the Chanel show "where I sat next to my friend, the lovely Dita Von Teese," she's filled us on her whirlwind week. While she missed his show, she blogs that she "went to see my friend Giambattista Valli at his showroom. . .He's definitely one of the most exciting designers around at the moment. He has even made a pair of super high platform shoes which he has named the Victoria Shoe — they are gorgeous. I will just have to learn how to walk in them first they are so high!" After taking in the Louis Vuitton show — "the colours were amazing and the shoes were gorgeous as were the use of different fabrics and sequins" — she went to designer Marc Jacob's dinner party where she met "some fascinating people including Sofia Coppola, who is one of Marc's friends and long time muse. She was amazing." Ah, but Posh can't be the bystander very long. She writes "I'm writing my blog to you from a cover photoshoot for American Elle, which I'm doing in Paris — it's going really well so far and the clothes I'm wearing are incredible. I'm going to have to sign off in a moment though because I'm needed for the next shot." Ah, the busy life of the ultimate fashionista!