Which J.Lo Costume Do You Like The Best?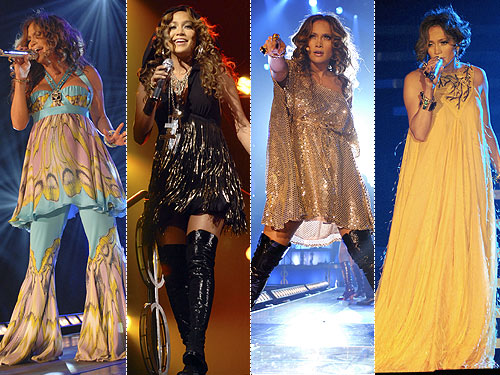 Kevin Mazur/WireImage(3); INF
On Friday, we gave you a peek at Cavalli's original sketch of Jennifer Lopez and Marc Anthony's costumes for their tour that kicked off this weekend in Atlantic City, New Jersey. Didn't make it to the concert? Here's a look at all of J.Lo's outfit changes. Cavalli and the couple had quietly been working on their wardrobe since July and we must say we are pretty impressed. J.Lo opens in a 1970's inspired bright blue and green pair of bell bottoms and matching butterfly halter top. The singer then revisits her "Jenny From The Block" era in a hooded mini dress with bold silver plates, knee-high leather boots and long neck chains. Keeping the boots, she quickly changes into a J.Lo favorite style with a metallic gold muu muu-inspired dress by Issa (the star loves the cape so much she even wears it off the stage!). Finally, she closes the show in a sweeping floor-length yellow dress with a jeweled neckline. Notice lack of form-fitting attire — is that for easy movement on stage or is something else developing? Whatever the case, we love J.Lo's glamorous and sometimes out-there signature style. Tell us: What do you think of Cavalli's costumes for J.Lo? Which is your favorite?