Help Mary-Kate and Ashley Olsen Get Dressed!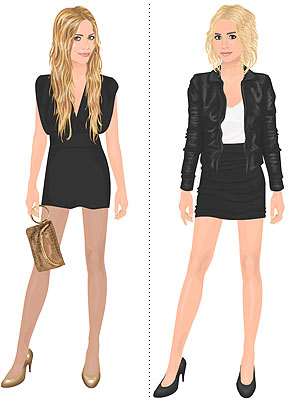 courtesy Stardoll.com
Have you ever wished you could help Mary-Kate and Ashley Olsen dress themselves? Now is your chance, at least online. Virtual paper doll site, Stardoll.com has just added the Olsen sisters to their A-list roster of celebrity paper dolls — with a virtual wardrobe of their newly launched Elizabeth and James clothing line. In classic Olsen style, you can mix this metallic sequin dress with MK's signature black fedora or slip Ashley into super skinny pants a plaid shirt and add her aviators and big black bag. Other fun pieces to play with include this glam jacket, a black tunic dress, some red carpet looks — and, of course, their always outlandish accessories. For added fun, enter the cover look contest and your choices for MK and Ashley could win you a private phone call with the sisters to talk fashion. Start styling!