Anne Hathaway & The Art of Accessorizing!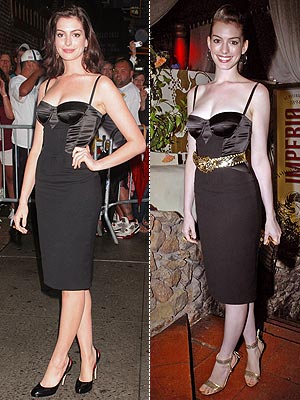 Dara Kushner/INF; FREZZA LAFATA/MATRIXPHOTOS
We already know that the perfect belt is going to be key for fall, and Anne Hathaway is showing off just why they are so important! We thought that the Becoming Jane star looked flawless in her Dolce & Gabbana corset dress when she wore it to Late Night with David Letterman. But when she wore it to a birthday party in Italy a few weeks later, we practically didn't recognize it. Her metallic belt and heels put a totally different spin on the dress and looked just as chic! Tell us: Which look do you like better for Anne? Simple or accessorized?