Fashion Multi-Tasker: Hayden Wears a Skirt as a Dress!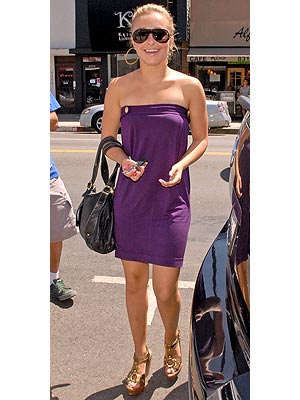 Respicio/JFX
The Heroes star is turning into quite the fashionista both on the street and red carpet. While shopping in L.A. recently, Hayden Panettiere traded her little yellow dresses for a bright purple tube number. We loved the color and brass bottons on the top, so we had to track it down! After a little bit of hunting, we discovered that Hayden's dress was actually a skirt! She isn't the first fashion savvy starlet to try this trick –remeber Keira Knightley's belted look from last summer? Hayden's dress/skirt is actually the "Lena" high-waisted skirt from Tart's fall line, which will be available soon at tartcollections.com. We actually like the way it looks as a dress — and a skirt! Talk about getting the most out of your shopping money. Tell us: Have you ever worn a skirt as a dress?
Want a tube "dress" like Hayden's? Try this one at victoriassecret.com, $29, this one at americanapparel.com, $20, or this one at forever21.com, $20.