We Love Tent Dresses... But Do Guys?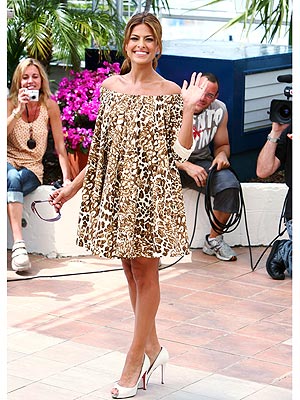 Photo: Palmberger / Celebrity Photo
The tent dress, in all of its many variations, has taken over our wardrobes. We can't seem to get enough of how cute and comfy they are, plus they magically hide all of our flaws! But along with hiding our flaws, they hide everything else about our bodies! Just look at Eva Mendes in this Anna Molinari dress — where is her knockout figure? We were wondering what guys thought about this billowing trend, so we asked a few to tell us their thoughts on these puffy dresses. Do you agree with them? What do the guys in your life think of tent dresses?
If a girl is in great shape, it could be real sexy. However, I do miss more of the form fitting outfits, as a girl could do a lot of false advertising with the non-form fitting tent dresses. Form fitting boy shorts and tight tees, now that's my idea of a hot outfit. – D. Wood, 31
My one-sentence summary is that they look like maternity dresses. – P. Aber, 27
Tent dresses are ugly in my opinion. I like more form fitting clothes, a nice skirt or even a nice pair of jeans. There is something about these dresses that is very unflattering. It does really look like someone wearing a potato sack with holes into it. – J. Yip, 31
Well to be honest I don't really like tent dresses. From a man's man point of view, a man doesn't really care what type of a dress a woman is wearing. All we care is if she's cute. But fitted clothing is what I'd rather see.– T. Zecevic, 26