Heidi Klum Gets Sweet on Makeup and Mothering!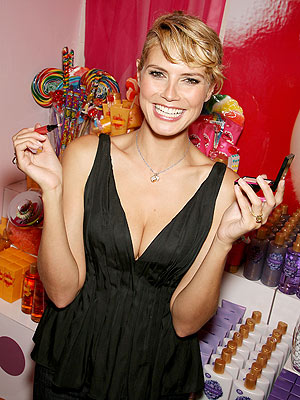 Marion Curtis/Startraks
What could be sweeter than all the treats in the temporary Victoria's Secret Beauty Candy Shop in Manhattan? Having your own signature makeup line in the works — just ask Heidi Klum. "These are colors that go with pretty much everyone," Heidi tells PEOPLE, opening up a palette in a gold-metal case that features an etching of her face on the front. "Because this is the first one I wanted to go with 'basics,' although that sounds boring, it's not. I have palettes where one is completely gone and the others aren't really touched. But I wanted something where they're really all great. You can't go wrong with any of this – it's not too intense or too crazy." And in case you're worried that the mom of three has lost her edge, Heidi assures us, "And they're very sexy!" And she tells us that three-year old daughter Leni is indeed getting into her makeup. "I let her. She has to understand she can't go to school like that. She's only 3! But as long as it stays at home and she's playing dress-up. I think if you have rules, then you can let them have fun, too." Unlike Leni, the rest of us will have to wait until November to get Heidi's signature line.