Courteney Cox Supports Omnipeace -- And a Great T-Shirt!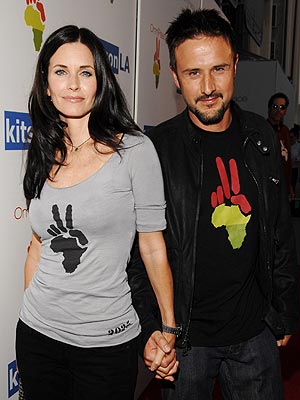 Lester Cohen/WireImage
What's the go-to Hollywood outfit? According to Courteney Cox Arquette, it's a T-shirt and jeans. In fact, at last night's OmniPeace event at Kitson Men, it was all about the T-shirt — specifically the Charitable T-shirt line by Signorelli to benefit Millenium Promise, a non-profit dedicated to ending extreme poverty in Africa by 2025. Courteney was host of the event and sported her very own OmniPeace shirt in grey and an EB Butterfly Necklace that her and David designed along with
Satya Jewelry to benefit another charity. She told PEOPLE, "I'm loving this shirt! It's so soft and cute." She was joined by OmniPeace founder Mary Fanaro (her friend of 20-years), husband David Arquette, sister-in-law Alexis Arquette and neighbor David Spade who came to support his friend. "Courteney always picks good causes to get behind," said the comedian. The mom of little Coco Arquette isn't just getting her celebrity friends to support, she's also teaching her daughter to give back. "With Coco, we're teaching her slowly but at this point I'm just trying to get her to share her Barbies!" Maybe an OmniPeace T-shirt for Barbie should be up next. Get your own OmniPeace by Signorelli T-Shirt, $65 at shopkitson.com.