The Scoop on All of Eva Longoria's ALMA Outfits!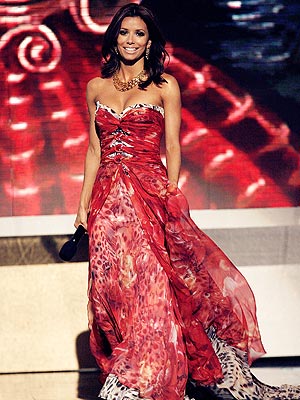 Vince Bucci/Getty
Everyone may have been talking about the number of outfits that Eva Longoria wore while hosting the NCLR ALMA awards — thirteen on stage, sixteen total for the night! — but Eva's interest was in who made each of her fabulous gowns. The soon-to-be-married star wore only Latino designers, right down to the jewelry and the shoes. Eva tells PEOPLE that "they really show the color and flavor of our community, and I always wear them regularly anyway, so it was kind of a perfect match. It's great because fashion is another extension of where Latinos have contributed immensely." And while her long-time stylist Robert Verdi helped select the first round of dresses to try on, Eva had a hard time narrowing down from thirty options to twelve. "It pained me!" she says of having to turn down couture gowns. "They're all my favorite children!"
Tune into the ALMA Awards tonight on ABC. And pick up PEOPLE on newsstands Friday for even more on Eva Longoria's hosting duties at the ALMA Awards.