Kylie Minogue: Is This Look A Hit or A Miss?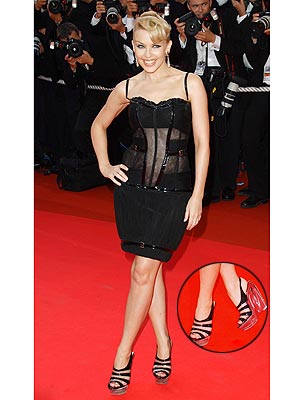 Mark Davis/Getty
We're usually big fans of Kylie Minogue's style, but we aren't exactly sure her look from yesteday's Ocean's 13 premiere in Cannes is museum worthy. While Kylie definitely has the stomach to pull off a sheer midriff panel, the patent-leather belts running up and down make this Dolce & Gabbana frock look a bit dominatrix than fashionista. Throw in the clear platform wedges and we aren't sure how Kylie can even walk! Tell us: What do you think of Kylie's premiere outfit? Is it a hit or a miss?
Vote on other stars who got it right — and wrong — in this week's Hit or Miss gallery.