Jessica Simpson's Even Blonder! Love It or Hate It?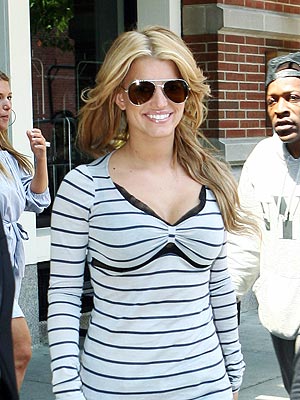 Splash News online
We guessed that Jessica Simpson's dark caramel color in Cannes would just be a step in the re-blonding process, and we were right! (And who doesn't love to be right?) Last Friday, BFF Ken Paves lightened Jessica's color "on a whim" just before her event in Cannes. "We were inspired by her new movie, Major Movie Star, which she is about to start filming!" he told PEOPLE. But on Monday night, Jessica turned to her long-time colorist Rita Hazan to add back in her signature bright blond highlights. Rita tells PEOPLE, "I highlighted Jessica's hair by putting in highlights which were not too fine — to give it an illusion of being a lot lighter than it really is." This isn't the end of the process, either: Jessica's hair will keep getting blonder — just not overnight. "It's better to start slowly [so you don't] damage the hair. In a few weeks, I would most likely do a single process, followed by highlights using a pale, baby blonde shade." So, we can look forward to Jessica getting back to her old platinum ways!
Tell us: What do you think is Jessica's best look? Should she keep going blonder or do you miss the dark hair?