The Inside Scoop on Jordin Sparks's Finale Dresses!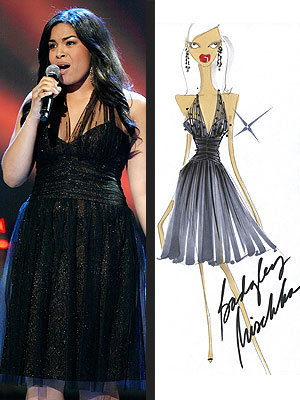 Frank Micelotta/getty
Going from average high school student to America's singing sweetheart requires a certain wardrobe adjustment. So you may have noticed when Jordin Sparks, who wore an affordable dress on last week's American Idol, stepped it up last night in a custom-made designer frock by Badgley Mischka. Longtime fans of the show, Mark Badgley and James Mischka honed in on Jordin early on. Badgley tells PEOPLE, "We kept thinking, 'That's a beautiful young girl; she would look amazing in our clothes.' " So when Jordin made it to the top two with Blake Lewis, they jumped on creating her finale wardrobe. Mischka says of Jordin: "She's absolutely amazing and such a talent. She's only 17 years old, but we wanted her to look glamorous and feminine." Judging by the dazzling black dress she wore when she brought the house down singing "This Is My Now," they're already on target. Don't miss tonight's show to see Jordin's next Badgley Mischka creation — and to find out if she is going to be the next American Idol!
Read about Everything Idol by clicking here.