DWTS Samantha Harris's Maternity Style Secrets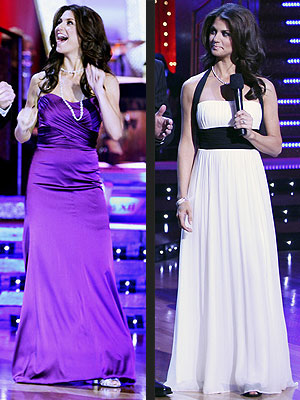 Dancing With The Stars host Samantha Harris faces a problem many pregrant women struggle with: how to look good in a gown when you're dressing for two? But luckily for her, Samantha has a little bit more help than the rest of us. "I have a stylist who finds these great clothes for me," Samantha tells PEOPLE. "We look for affordable things that are available to viewers. We know what's working because I get a ton of emails asking me about the dresses." Gowns, like David Meister's purple satin stunner and BCBG's black and white confection, top out around $600. And what's underneath those glam gowns? Spanx, of course — Samantha wears Mama Footless, a shaping maternity hose, $28 or Power Mama, a mid-thigh shaper, $32 at spanx.com. And don't miss her show-stopping look on tonight's finale, including a dazzling $5 million of diamonds from jeweler Jeffrey Rackover.
Click here to read what you missed on last night's Dancing With the The Stars!
Photo: CAROL KAELSON/abc(2)