Fashion Faceoff: Hayden vs. Maria vs. Eva!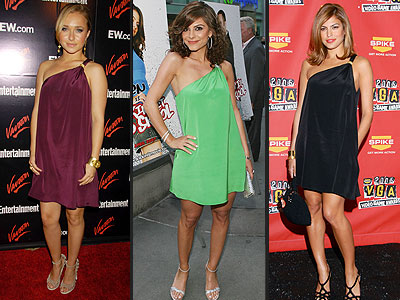 One-strap dresses were a major statement of the red carpet season, showing up on everyone from Kate Winslet to Beyonce. So, when Eva Mendes wore her black one-shoulder Jay Godfrey dress to the Spike TV Awards in December, she was ahead of the curve. But the look is still fresh and on target for summer — check out Maria Menounos in the bright springy green version of the dress recently at the premiere of Kickin' It Old Skool and Heroes star, Hayden Panettiere, donned the eggplant color for Entertainment Weekly's UpFront Party in New York City this week. Want the dress for yourself too? The Jay Godfrey silk dress is available exclusively at intermixonline.com for $495 in black, white, green and blue. Not bad for star style, but a little pricey for the rest of us. Try this similar one-strap goddess dress, in black or green, at ardenb.com, for only $98.
Tell us: Who looks better in this Jay Godfrey one-strap frock: Hayden, Maria, or Eva?
Photo:inf; Mark Savage/Corbis; Michael Buckner/Getty