Fashion Faceoff: Lindsay Lohan vs. Lily Allen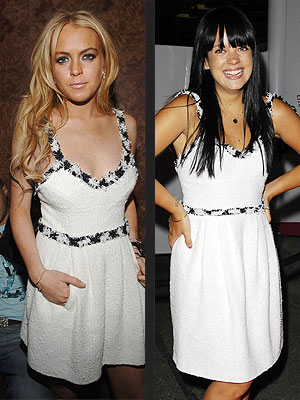 It's never a surprise to see Lindsay Lohan in Chanel — not only is she friends with designer Karl Lagerfeld, but she's a frequent shopper at their stores. But British pop sensation Lily Allen in a conservative tweed-trimmed dress? Now that's something we never thought we'd see! But both young stars hit the party scene this week (in N.Y.C. and London, respectively) in their identical ivory frocks. We want to know what you think! Tell us: Who wears their Chanel dress better? Lindsay Lohan or Lily Allen?
Click here to see more Fashion Faceoffs on StyleWatch.
Photo: Jamie McCarthy/WireImage; Harold Cunningham/WireImage