Jessica Simpson Goes Va-Va-Voom For Spring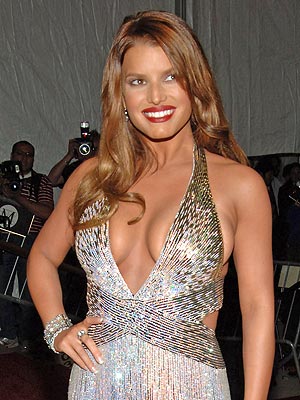 Perhaps it's a sign that seasons have changed, but we can't help but to have noticed that Jessica Simpson's d'ecolletage has resurfaced in the past couple of weeks. After months of wearing baggy sweaters, turtlenecks and coats, suddenly her inner-Daisy Duke is showing. First there was this low scooped print dress in Los Angeles. Then there was the satin and lace look at the Pussycat Dolls show in Las Vegas. We were just about ready to chalk it up to location (When in Rome!), when she turned up at the Costume Institute gala in N.Y.C. wearing this sexy and revealing Roberto Cavalli halter dress. Wonder what's up? Did someone tell Jess that she was looking too frumpy, or maybe she's just feeling sexy this spring?
See more Jessica Simpson photos by clicking here.
Photo:Jamie McCarthy/WireImage