Kirsten Dunst's Costume Institute Look: Hit or Miss?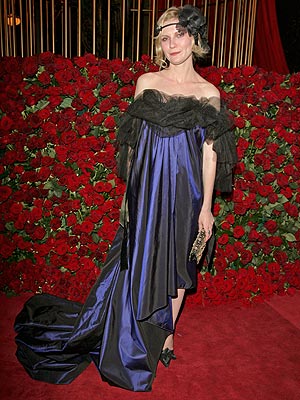 It looks like Kirsten Dunst took the "costume" part of the Costume Institute's Party of the Year very, very seriously last night. The Spiderman 3 star turned out in a volumous Yves Saint Laurent purple frock that looks like a cross between a 20's flapper outfit and one of Marie Antoinette's bedsheets. While we applaud her daring (perhaps she was feeling brave after her whirlwind premiere tour these past few weeks) we're afraid she looks a little silly. (And we're not even talking about the pouf on her forehead.) There's just way too much of this dress — it looks like she's drowning under all those folds. Perhaps the pregnant Noami Watts (who looked stunning, btw, in Zac Posen) could have been forgiven for this, but Kirsten, we know you could have done better! Do you agree? Tell us: Is Kirsten's look a hit or a miss?
To see what all your favorite stars wore, including J. Lo., Lindsay, Mary-Kate and Ashley, Jennifer Hudson and Scarlett, check out our Costume Institute gallery.
Photo: Matt Baron/BEImages