Prep Your Skin For Spring With Bliss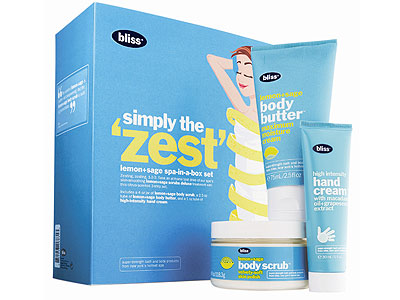 After peeling away the layers of our winter wardrobes, our skin is crying out for a little renewal. We're easing into skin-baring season with "Simply the Zest," a timely package of Bliss lemon and sage spa products that helps restore skin to warm-weather glory. The best part is that you can do it yourself at home—tonight! Exfoliate with the creamy body scrub, hit the shower and finish with super-rich body butter and hand cream. You'll be addicted to Bliss' signature lemon and sage scent. And now your arms and legs are worthy of that spring minidress! "Simply the Zest" would also be a cute gift — just in time for Mother's Day! Pick it up at blissworld.com for $36.
Click here for our Ultimate Guide to Summer Beauty. See how to look great all summer long – from quick hair tricks to must-have makeup to the newest trends!
Photo: courtesy bliss