Kate Moss Causes Frenzy At London's Topshop!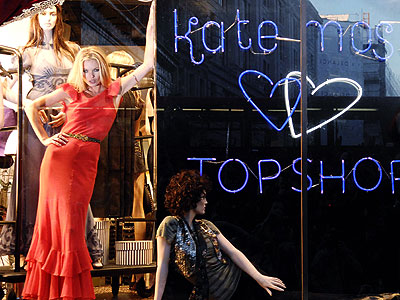 With just minutes to go until the Kate Moss Topshop line launched in London's Oxford Circus last night, frenzied fashionistas (yes, I was there and have the bruises to prove it!) crowded around a red velvet curtained window display, no one quite sure what to expect. Much screaming and pushing later the curtains were finally pulled back to reveal a sultry looking Ms. Moss draped over a mannequin in a full length red chiffon gown (limited edition, nearly $400 if you're wondering). Two poses, 12 seconds later it was all over and the first wave of shoppers ran into the store. With an allocated shopping time of 20 minutes I quickly got down to business ie grabbing everything I could see in my size. If you're after the must have's – I can confirm the two biggest sellers last night were the Pansy dress (£45 or $90) and the Kate vest in black (£12 or $24) so get clicking! — Monique Jessen
A selection of the Kate Moss Topshop line will be available in Barneys from May 8 barneys.com, and the entire line is now available on topshop.com (international shipping fees do apply).
Photo: Timms/Xposure/star max