Get Cupcakes Like Suri!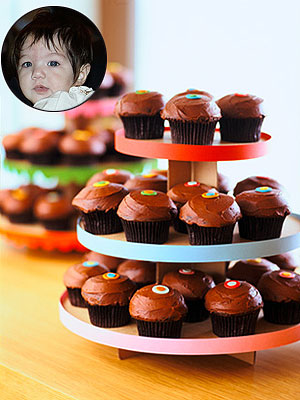 Not only does little Suri Cruise have an amazing gene pool, she's got great taste in cupcakes! For her 1st birthday, Suri had a party hosted by mom Katie and dad Tom on April 18th where the entire clan dined on cupcakes from Sprinkles bakery in Beverly Hills. Sprinkles are the sweetest splurge in Hollywood with a line down the block just to get one! While tourists wait for over 20 minutes for the tasty treats, real Sprinkles fans like the StyleWatch team go online to order or call ahead. We all have our favorites: the black and white, vanilla with chocolate frosting, and the most popular red velvet cupcake. On Saturdays, Sprinkles bakes peanut butter chocolate cupcakes which are well-worth the wait, just for the frosting! Sprinkles cupcakes have become Hollywood's latest housewarming gift, get-well treat, and afternoon indulgence — just ask fans like Paris Hilton, Courtney Cox, and Tyra Banks.
Cupcakes are $36 for a dozen — for more info, check out sprinklescupcakes.com.
Photo: ap; courtesy sprinklecupcakes.com