The Many Faces of Kirsten Dunst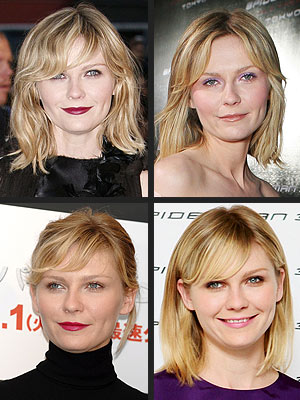 Kirsten Dunst is out and about in a big way right now, promoting her new movie Spider-man 3 from Tokyo to London. Sure, we're excited for the next Spidey adventure, but what's really got us on the edge of our seats is her ever-changing makeup! She started in Tokyo (top right) with purple-tinged eyes and pale gloss, amping up the color to a bright berry for the Japanese photocall (bottom left). Once in Europe, she switched to a pale mauve lipstick and a relatively bare face for a press conference in Rome (bottom right), to wind up with dramatic dark red lips and silver eyes at the London premiere. We're totally impressed with her versatility — and her makeup artist. Tell us: Which look do you like best for Kirsten? Nude lips, mauve lips, berry lips or dark red lips?
Click here to see more photos, news and a full bio of Kirsten Dunst, and click here to discuss her style in Off the Rack.
Photo: Lewis/WireImage; Charbonneau/WireImage; Sato/WireImage; Antonelli / Rex USA