Stars Love Bargains, Too: Katie Holmes's Gap Blouse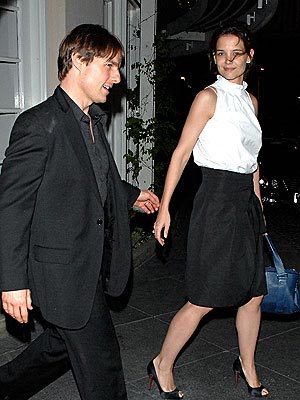 Katie Holmes has a wardrobe of enviable items, from her Armani dresses to her Balenciaga bags. So when we saw this photo of her and husband Tom Cruise out to dinner in L.A., we couldn't believe our eyes — Katie is wearing the Rodarte Trapeze Top from the new Gap Design Edition collection. We thought the collection was totally cool, and we love the way that Katie paired her simple $68 white cotton shirt with a black pencil skirt and sexy Christian Louboutin peep-toe pumps — a classic mix of high and low. Unfortunately, the shirt has sold out on the Gap website, but you can still purchase them in stores or check out the selection on Ebay.
Click here to see more photos, news and a full bio of Katie Holmes, and click here to discuss her style in Off the Rack.
Photo: Ramirez-Rilloraza /JFX