Rain Gear Fit for April Showers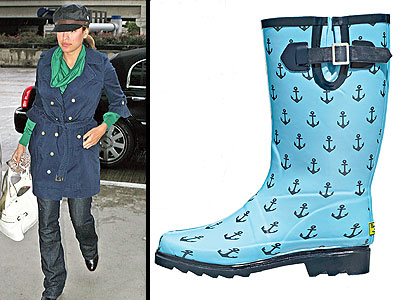 April showers may bring May flowers, but they also bring out the most adorable rain gear! We love Eva Mendes's chic trench and hat — and were inspired to go find our own! Neiman Marcus's colorful monogrammed umbrellas and Dooney & Bourke's polka dotted ones will make gloomy days seem much brighter. Need to be hands free? Hat Attack has a great reversible rain hat . Outerwear is a must to fight off water and harsh winds, but
"target="_blank">Jheri Richard's water-repellent trench and Burberry's crisp white rain jacket are fashionable enough to keep as wardrobe staples. Protect your feet from puddles with Tretorn's rain shoes , or for serious storms, slip into these adorable anchor printed rain boots by Western Chief . Don't forget to seal up your iPod with an iSkin protective case and make sure your watch is waterproof like this Alexander & Paul Quartz Timekeeper. For more rain gear ideas, pick up our April StyleWatch issue on stands now.
Photo: bauer-griffin; john muggenborg