Calling All Bridesmaids: Can You Beat This Dress?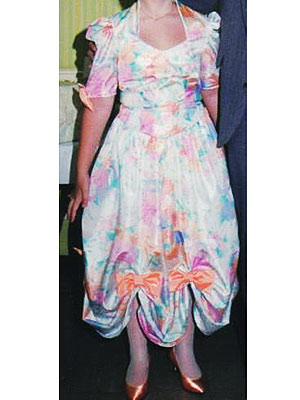 Over at our Ugly Bridesmaids' Dress blog, we're seeing some real fashion disasters — from super-poufy satin gowns to sequined nightmares to 1970s hippie wear. But now, one reader is issuing a challenge: "I would love to see the dress that can beat this one," writes Ginger from Charleston, West Virginia. We'll admit, with that flowery pattern (and kitchen curtain-style hemline), the dress will be hard to beat. But do you think you can top it? If you've got a bridesmaid's dress in your closet that's shiny, frilly or just plain stinks, send it in to our blog (and get revenge on the bridezilla who forced you to wear it)!
Click here to see our Real Life Weddings Blog and more ugly bridesmaids' dresses!