Would You Wear Jessica Simpson's High-Waisted Pants?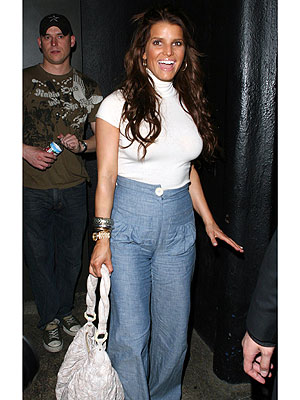 High-waisted pants have been lurking on the fashion horizon for a few seasons — either you are thrilled for the break from low-rise jeans and the threat of muffin tops or you are terrified at letting your torso be swallowed by your waistband. Jessica Simpson is apparently up for the challenge, stepping out for a night of dinner and dancing in a pair of distinctly high-waisted chambray pants and a clingy ivory turtleneck. While we might have picked a pair of pants that didn't have pleated pockets on the hips, we tip our hats to Jessica for trying a different look and a hot new trend. But we want to know what you think! Tell us: Would you wear high-waisted pants like Jessica? Do you like the look on her?
Click here to see more photos, news and a full bio of Jessica Simpson, and click here to discuss her style in Off the Rack.
Photo: neill j. schutzer/ramey