Courteney Cox's Chic Picnic Blanket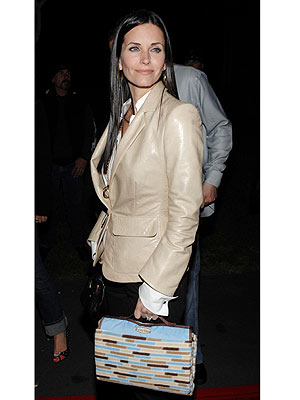 Courteney Cox Arquette totally fooled us with this adorable printed tote! We were positive that the actress was carrying a perfectly chic spring bag to The Tripper premiere last week, but it turns out that is actually a picnic blanket carrier that everyone was given at the screening (the movie's name is on the other side). Made by Picnic Time, the blanket comes in a variety of cute geometric patterns and is reversible fleece and waterproof nylon. And at $18, it's a steal. Hope it kept Courteney from getting the chills during the scary movie! Get your own Sunshine Blanket Tote at katalinaklark.com.
Click here to see more photos, news and a full bio of Courteney Cox Arquette, and click here to discuss her style in Off the Rack.
Click here to see our Ultimate Guide to Summer Style. Everything you need to beat the heat — from the hottest shoes to the coolest shades and the sexiest bikinis!
Photo: NCNA