Avril Lavigne's Girly Side: Pink! Chanel!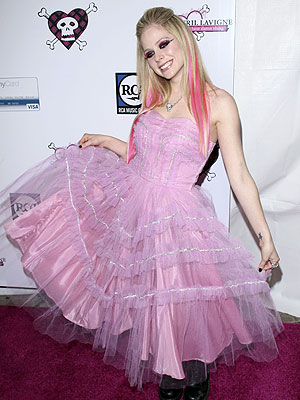 While her ties from her "Sk8ter Boi" punk days may now reside in her garage, Avril Lavigne hasn't totally ditched her punk roots — think of it as "sexy punk," as her stylist Jessica Pastor terms it. From the pink streaks that have appeared in her long blonde locks to the fuchsia pumps she recently requested from Pastor, Avril is all about embracing her girlier side — and her love of pink! Even the Hot Topic shirt that she's selling in support of her new single "Girlfriend" features a pink skull logo that she describes as "kind of cool." We may never see her sporting it in public, but Avril tells PEOPLE that her at-home staple is the Victoria's Secret Pink collection — "the thing that says 'Pink' on the butt and, like, my pink Ugg boots." And while Avril admits that she doesn't actually "wear a lot of high end stuff," like any fashionable girl, she "loves Chanel. I think they're a really good brand. Everything of theirs is good!"
Click here to listen to exclusive audio of Avril talking about major moments in her life!
Photo: Ramone /Landov