Beauty For a Cause: Too Faced Palette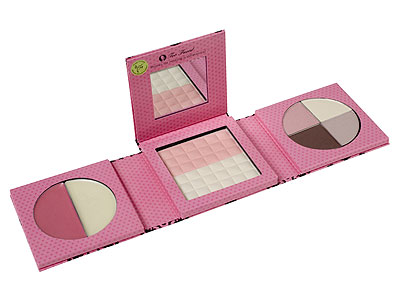 There's a reason that May is Skin Cancer Awareness Month. As we head towards summer and outdoors fun, it's time to remember why it is that we slap on SPF before we head out. Lisa Blandino, sister of Two Faced Cosmetics founder Jared Blandino, is a living reminder of why sunscreen and skin cancer screenings are so important. Not long ago, Lisa was diagnosed with 4th stage Melanoma and began receiving chemotherapy. Despite dire predictions, Lisa has beaten the cancer. In response to her experience, Lisa and her brother have created the Lisa Love Beauty Battle Box, a beautiful makeup palette that contains four eyeshadows, two lipglosses and a duo face shimmer. When you buy the kit, you get perfect spring/summer colors, you're also helping the cause. 42% of net proceeds go to the Melanoma Research Foundation, a non-profit organization that strives to find a cure for malignant melanoma. Just remember to apply the sunscreen before you use your new palette. Get the Love Lisa Beauty Battle Box for $33 at sephora.com.
Click here for our Ultimate Guide to Summer Beauty. See how to look great all summer long – from quick hair tricks to must-have makeup to the newest trends!
Photo: Courtesy of Too Faced