Would You Wear Mischa's Moon Boots?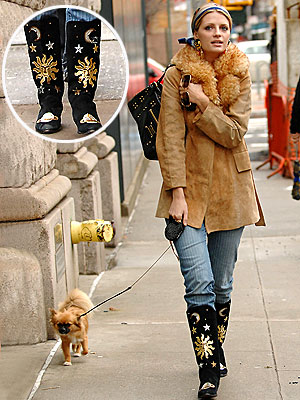 Mischa's at it again! While shopping yesterday in N.Y.C's trendy SoHo neighbrohood, the always innovatively dressed actress stepped out in a '70s inspired outfit complete with head scarf, fuzzy-trimmed coat, major earrings — and vintage boots embroidered with the galaxy. We remember Moonboots being a fad a few winters ago, but it seems like Mischa is being a tad too literal with this one. We can't say we would ever wear this particular pair of shoes, but we want to know what you think. Tell us: Would you wear Mischa's boots? Is her style getting too wacky?
Click here to see more photos, news and a full bio of Mischa Barton, and click here to discuss her style in Off the Rack.
Photo: Humberto Carreno/Startraks