Tasty Lotions Just in Time for Spring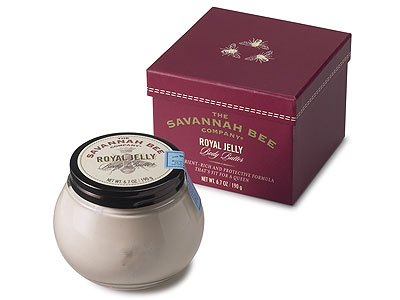 Lately, the new body products showing up in the beauty department are making us hungry. Check out these body butters — all of which are food-inspired: Savannah Bee Company's Royal Jelly Body Butter, $22, which has pecan butter and royal jelly (the beehive-derived mix of natural vitamins, proteins and sugars that's deep nourishing and moisturizing for skin), and an addictive blackberry scent. Korres, a cult-fave skincare line from Greece, has a new Guava Body Butter, $20, with vitamin C-rich sweet guava extract and antioxidant-jammed sunflower, almond and avocado oils all in a skin-softening shea butter base. Olivina Napa Valley's Classic Olive Body Butter, $25, is an all-natural blend of olive and grapeseed oils, chamomile flowers, alga and aloe vera — and it comes in this adorable vintage-y glass jar. Or pick up the Boots Mediterranean Olive Sage Almond Wonderbalm, $9, which is already a best seller for the line — and works everything from elbows to heels. All these creams are super-rich, which makes them particularly great for rough patchs, like elbows and knees (and they're miraculously healing on dry cuticles, too).
Click here for our Ultimate Guide to Summer Beauty. See how to look great all summer long – from quick hair tricks to must-have makeup to the newest trends!
Photo: Courtesy of Savannah Bee